Some of Our Swimming Pool Services Include:
Pool Opening and Closing Service
Pool Filter Cleaning, Repair and Replacement
Pool Pump Motor Repair, Installation, Replacement
Pool Heater Repair, Installation, Replacement
Pool Light Repair, Installation, Replacement
Pool Salt System Cleaning, Repair, Replacement
Welcome to AllSpa, your first choice for dependable repair, cleaning, and maintenance, servicing top brands of swimming pools, hot tubs, swim spas, and saunas.
We know how important great service is. And that's why we make it a top priority to meet your needs, whether it's replacing a broken heater or a damaged pump. With your satisfaction our goal, we'll get it done right.
Trusted Residential Swimming Pool Cleaning
Trust the AllSpa team to get your home swimming pool clean and healthy. Sparkling clean water is the name of the game with recurring cleaning services you can trust.
Commercial Pools, Cleaning and Maintenance
For dependable and competitively priced commercial pool service, cleaning or maintenance, turn to AllSpa! Our professional team lives up to a reputation as one of the best commercial pool service companies in Oregon and SW Washington.
Reliable, Trained and Dependable Pool Service Technicians
Our team has a passion for pools and it shows! Allspa technicians exceed expectations by delivering exceptional services for keeping your water clean, clear, and sanitized.
The best service, repair and maintenance is our mission, whether we're offering a one-time clean or delivering on a recurring monthly or annual plan.
The AllSpa team is in total compliance with strict procedures and guidelines. That's right, we've had an independent audit. Our skilled technicians are background checked, licensed and bonded for your protection. There's a reason why we've been so successful and we'll continue to be there when you need us most!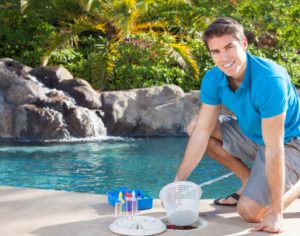 Want to Learn More About Our Award-Winning Swimming Pool Cleaning Repair and Maintenance Services? Contact Us Here:
• Swimming Pool Repair Services
• Swimming Pool Cleaning Services
• Contact Us About Service
• Schedule a Service or Repair
• Read AllSpa 5 Star Reviews
Connect with Us:
Check Us Out on Facebook
About Troutdale – Source: https://en.wikipedia.org/wiki/Troutdale,_Oregon
Troutdale is a city in Multnomah County, Oregon, United States, immediately north of Gresham and east of Wood Village. As of the 2010 census, the city population was 15,962.[6] The city serves as the western gateway to the Historic Columbia River Highway, the Mount Hood Scenic Byway, and the Columbia River Gorge. It is approximately 12 miles (19 km) east of Portland.
Geography
According to the United States Census Bureau, the city has a total area of 6.02 square miles (15.59 km2), of which, 5.94 square miles (15.38 km2) is land and 0.08 square miles (0.21 km2) is water.[12]
Troutdale is located at the confluence of the Sandy and Columbia rivers.
The city is about 12 miles (19 km) east of Portland.[13]
Climate
This region experiences warm (but not hot) and dry summers, with no average monthly temperatures above 71.6 °F (22 °C). According to the Köppen climate classification system, Troutdale has a warm-summer Mediterranean climate, abbreviated "Csb" on climate maps.[14]
Troutdale is renowned for having some of the windiest conditions in the Pacific Northwest. Periodically, strong east winds emerge from the Columbia River Gorge that affect the city's temperature and general climate. As a result, several businesses and locations utilize the East Wind identifier in their names or services.
Tourism
Troutdale is the home of one of the most notable locations of the local McMenamins brewpub and hotel chain, the 38-acre (154,000 m2) Edgefield, which was formerly the Multnomah County Poor Farm. The site has a hotel and a variety of restaurants, bars, and entertainment venues. Edgefield is listed on the National Register of Historic Places (NRHP).
Other buildings on the NRHP in Troutdale include the Fred Harlow House and the Troutdale Methodist Episcopal Church.
Troutdale is also served by aerial tour company Envi Adventures that provides air tours of the Columbia River Gorge and Downtown Portland.
Coordinates: 45°31′46″N 122°23′30″W
Map of Troutdale
Here's more information about Troutdale
https://www.troutdaleoregon.gov/
https://www.troutdalehistory.org/
https://dipompello.com/