Meet the biggest and most trusted hot tub, swim spa and sauna repair, cleaning, and maintenance company in Oregon and Washington! We're AllSpa, locally owned and operated and proud to service all top brands!
AllSpa is a top service partner of Oregon Hot Tub, and the only trade certified hot tub service center in Oregon.
Hot Tub, Swim Spa Repair and Service – Warranty Service, Inspections
Ever wondered how to repair your hot tub at home? Or found yourself searching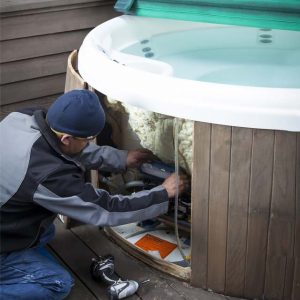 aimlessly for a hot tub service center? Struggle no more! You've arrived at the best hot tub repair company in the area.
We are the ONLY Trade Certified Service Center in Oregon for Hot Tubs!
After an independent audit, it's clear why we've been in business since 1979—we operate in compliance with all strict procedures and guidelines and our service team are all background checked, licensed and bonded.
Hot Tub, Swim Spa Cleaning and Maintenance
One-Time Cleanings, Monthly and Annual Plans, Water Balancing Available. In need of a deep clean for your hot tub, swim spa or sauna? We're pleased to offer a wide range of services to help you enjoy clean water, including signature spa care and recurring cleaning services.
Hot Tub, Swim Spa Watercare
Ready to schedule a recurring clean or water care plan? We can ensure your hot tub, swim spa or sauna stays sparkling clean all year long, so you don't ever have to worry about it.
Hot Tub, Swim Spa Drain and Fill
How about this? Buy a one-time hot tub drain and fill service and see what you think. If you love it, we'll apply the cost of your service towards an annual care plan of your choice within 14 days!
Services Offered
• Hot Tub, Spa Repair, Service, Maintenance
• Jacuzzi Repair, Service, Maintenance
• Hot Tub, Swim Spa Drain and Fill
• Hot Tub Cleaning Service, Portable Spa Maintenance
• On-Site Water Analysis
• Insurance Claims
• Repair Services
• Spa Service Use Training
• Maintenance Inspections
• Hot Tub and Swim Spa Relocation and Set-Up
• Portable Sauna Relocation and Set-Up
• Crane Moving Services
• Real Estate Inspections
• Construction Design Consulting
Learn More About Our Award-Winning Hot Tub, Swim Spa Repair, Service and Maintenance. Contact Us Here:
• Hot Tub and Swim Spa Repair Services
• Hot Tub and Swim Spa Cleaning and Maintenance Services
• Schedule a Service or Repair
• Hot Tub Drain and Fill
• Swim Spa Drain and Fill
• Hot Tub Moving Services
• Hot Tub Sale
About Vancouver Source: https://en.wikipedia.org/wiki/Vancouver,_Washington
Vancouver is a city on the north bank of the Columbia River in the U.S. state of Washington. It is the largest suburb of Portland, Oregon.[6][7] Incorporated in 1857, Vancouver had a population of 161,791 as of the 2010 U.S. census, making it the fourth-largest city in Washington state.[8] Vancouver is the county seat of Clark County and forms part of the Portland-Vancouver metropolitan area, the 23rd largest metropolitan area in the United States. Originally established in 1825 around Fort Vancouver, a fur-trading outpost, the city is located on the Washington–Oregon border along the Columbia River, directly north of Portland. In 2005, Money magazine named it No. 91 on its list of best places in America to live.[9] In 2016, WalletHub ranked Vancouver the 89th best place in the U.S. for families to live.[10]
Education
See also: Fort Vancouver Regional Library District
Clark College chime tower, with the Cannell library in the background
Skyview High School
Washington State University Vancouver in January 2014
Public schools
Vancouver has two school districts: Vancouver Public Schools and Evergreen School District.
The Vancouver Public Schools cover most of west Vancouver and has seven high schools: Hudson's Bay High School, Columbia River High School, Fort Vancouver High School, Lewis and Clark High School, Skyview High School, Vancouver School of Arts and Academics, and Vancouver iTech Preparatory (grades 6–12). It also has six middle schools: Alki Middle School, Discovery Middle School, Gaiser Middle School, Jason Lee Middle School, Thomas Jefferson Middle School, and McLoughlin Middle School.
Vancouver Public Schools' elementary schools include Sarah J. Anderson, Chinook, Eisenhower, Felida, Ben Franklin, Fruit Valley Community Learning Center, Harney, Hazel Dell, Hough, Martin Luther King, Lake Shore, Lincoln, Marshall, Minnehaha, Peter S. Ogden, Eleanor Roosevelt, Sacajawea, Salmon Creek, Truman, Walnut Grove, and Washington.
The Evergreen School District covers most of east Vancouver and has seven high schools: Evergreen High School, Mountain View High School, Henrietta Lacks Health and Bioscience High School, Heritage High School, Union High School, Legacy High School, and Cascadia Technical Academy (formerly Clark County Vocational Skills Center).[59]
The district has six middle schools: Cascade, Covington, Frontier, Pacific, Shahala, and Wy'East.
Evergreen School District's 21 elementary schools are: Burton, Burnt Bridge Creek, Columbia Valley, Crestline, Ellsworth, Endeavour, Fircrest, Fisher's Landing, Harmony, Hearthwood, Illahee, Image, Marrion, Mill Plain, Orchards, Pioneer, Riverview, Sifton, Silver Star, Sunset, and York.
Vancouver is also home to the Washington School for the Deaf and Washington School for the Blind, and (through Evergreen School District) Home Choice Academy, for home-schoolers.
Art and culture
Kiggins Theatre was designed by architect Day Walter Hilborn.
In the early 2000s, Vancouver began seeing a revitalization of local art scene and cultural events. In 2010 there was a movement among local artists to form cooperatives and meet with established local gallery owners for a monthly forum known as "Art Conversations." Many of Vancouver's art galleries are located in downtown Vancouver, and in 2014, the City Council formally designated an "Arts District" in the downtown core.[62]
The Kiggins Theatre located within the Downtown Vancouver Art District, was built in 1936 by architect Day Hillborn. It was named for J.P. Kiggins, an entrepreneur and politician who cut a swath through town in the early 20th century, serving as Vancouver's mayor for 15 non-consecutive years between 1908 and 1935. It was renovated and reopened in 2011 as an independent film and community event venue.
The Vancouver Symphony Orchestra first formed in the late 1970s. Conducted and directed by Dr. Salvadore Brotons, the Symphony regularly performs concerts.[63]

Kingofthedead, Public domain, via Wikimedia Commons
Coordinates: 45°38'N 122°36'W – https://goo.gl/maps/RGxH2XRBuaLNZ9vi8
Here's more information about Vancouver
https://www.cityofvancouver.us/
https://www.visitvancouverusa.com/
https://vansd.org/