Some of Our Swimming Pool Services Include:
Pool Opening and Closing Service
Pool Filter Cleaning, Repair and Replacement
Pool Pump Motor Repair, Installation, Replacement
Pool Heater Repair, Installation, Replacement
Pool Light Repair, Installation, Replacement
Pool Salt System Cleaning, Repair, Replacement
AllSpa has been delivering trusted repair, cleaning, and maintenance services for all top brands of swimming pools, hot tubs, swim spas, and saunas.
Locally owned and operated, we prioritize customer service, giving you competent care and professional results, whether we're repairing or replacing a pump, salt system, heater and more! Our team is highly skilled, and our services are competitively priced.
Affordable Residential Swimming Pool Cleaning
We're committed to delivering backyard swimming pool services you can trust, and at a reasonable price. We offer a variety of services for every need, so you can keep your pool water healthy, clean and ready to use. With one time cleaning services and recurring plans, we have something for everyone.
Professional Commercial Pool Cleaning and Maintenance
We understand the importance of securing reliable commercial pool cleaning services for your business. AllSpa professionals are ready to sanitize, clean and maintain your commercial pool professionally and consistently in Oregon and SW Washington.
Best-in-class Pool Service Technicians
AllSpa technicians are pool enthusiasts too! We share a passion for pools and a mission to deliver nothing short of award-winning service, keeping your water clean, clear, and sanitized.
Best-in-class service, trusted repair and quality maintenance, AllSpa is on the job! We've been independently audited too, and proudly meet all strict procedures and guidelines. For one time needs or recurring plans, we'll be here when you need us most!
Want to Learn More About Our Award-Winning Swimming Pool Cleaning Repair and Maintenance Services? Contact Us Here:
• Swimming Pool Repair Services
• Swimming Pool Cleaning Services
• Contact Us About Service
• Schedule a Service or Repair
• Read AllSpa 5 Star Reviews
Connect with Us:
Check Us Out on Facebook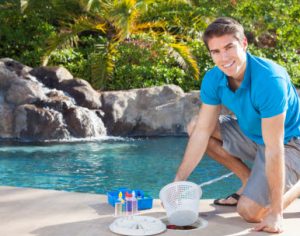 About Vancouver – Source: https://en.wikipedia.org/wiki/Vancouver,_Washington
Vancouver is a city on the north bank of the Columbia River in the U.S. state of Washington. It is the largest suburb of Portland, Oregon.[6][7] Incorporated in 1857, Vancouver had a population of 161,791 as of the 2010 U.S. census, making it the fourth-largest city in Washington state.[8] Vancouver is the county seat of Clark County and forms part of the Portland-Vancouver metropolitan area, the 23rd largest metropolitan area in the United States. Originally established in 1825 around Fort Vancouver, a fur-trading outpost, the city is located on the Washington–Oregon border along the Columbia River, directly north of Portland.
Transportation
Vancouver's public transit service is provided by C-Tran.
Vancouver has two interstate freeways, I-5 and I-205, both of which run north–south, across the Columbia River into Portland and toward Seattle. It also has two heavily travelled state highways within the city limits. SR 14 begins at I-5 in downtown Vancouver and makes its way east. It is a freeway all the way until Camas. SR 500 begins from I-5 at 39th Street in north Vancouver, travels east connecting with I-205, and continues east into the suburb of Orchards where the freeway terminates at Fourth Plain Boulevard, and meets with the south end of north–south-oriented 117th Ave., SR 503. A third state highway, SR 501, starts at I-5 and heads west through downtown and continues along a path that runs between the Columbia River and Vancouver Lake. Route 501 – SR501 dead ends a few miles north of Vancouver.
The area's mass transit system is C-Tran, the Clark County Public Transportation Benefit Area Authority, which operates 135 buses, vanpools, and paratransit vehicles. There are also a number of express routes into Portland's downtown.
In 1995, Clark County voters defeated a ballot measure that would have funded extension of Portland's MAX Light Rail system north into Vancouver.[71] Opposition to paying for light rail was strong at that time, but slowly declined over the following several years, eventually leading Vancouver officials to begin discussing the idea again.[72][73] Meanwhile, TriMet reconstituted its planned MAX line to Vancouver as a shorter line running only within Portland, which could potentially be extended across the river and into Clark County at a later date. This extension of the MAX system opened in 2004 as the Yellow Line,[74] running as far north as the Portland Expo Center, approximately 1 mile (2 km) south of downtown Vancouver. Vancouver voters have rejected light rail operations monies in connection with the Columbia River Crossing proposal.[75]
Vancouver has always been well served by rail; current freight railroads operating in Vancouver include the BNSF, Union Pacific, and the local shortline Lewis and Clark Railway. Amtrak, the national passenger rail system, provides service to Vancouver Station. The long-distance Coast Starlight and Empire Builder serve the city, as well as the regional Amtrak Cascades.
Pearson Field, located near downtown Vancouver, is the main airport serving the city. The airport is intended primarily for general aviation without any commercial air service. The nearest commercial airport is Portland International Airport (PDX).
In 2008, Vancouver passed a citywide law requiring anyone on a wheeled device such as a bicycle, skateboard, scooter or skates to wear a helmet while on any sidewalk, street, trail or other public property. Many local cyclists opposed the law as a misuse of city funds and police efforts, as well as encroachment on personal freedoms. Despite opposition from the public, the Vancouver City Council passed the measure 5–1 with then Mayor Royce Pollard saying, "…statistics be damned. I support this."[76][77]
Map of Vancouver

Here's more information about Vancouver
https://www.columbian.com/
http://www.fvrl.org/loc/va