Some of Our Swimming Pool Services Include:
Pool Opening and Closing Service
Pool Filter Cleaning, Repair and Replacement
Pool Pump Motor Repair, Installation, Replacement
Pool Heater Repair, Installation, Replacement
Pool Light Repair, Installation, Replacement
Pool Salt System Cleaning, Repair, Replacement
Welcome to AllSpa, the industry's most trusted pool care, cleaning, and maintenance company. We're proud to service all quality brands of swimming pools, hot tubs, swim spas, and saunas.
Exceptional service is everything to us. We prioritize your needs, whether it's fixing a broken heater, replacing a salt water system or simply repairing a broken filter. With AllSpa on the job, you'll get it done right.
Backyard Swimming Pool Cleaning – At Your Service
When you need your swimming pool cleaned, don't trust the amateurs. With years of hands-on experience, the AllSpa team will get it done right. With flexible options, recurring plans and more, we'll design the plan that works for you.
Competitive, High Quality Commercial Pool Service
The best commercial pool services deliver consistent, high quality results. Our professional team understands the complex needs of commercial pools and will deliver results. For ongoing cleaning and commercial maintenance needs, businesses in Oregon and SW Washington turn to Allspa.
Detailed Pool Service Technicians
You have choices when it comes to securing a cleaning service for your pool. We've worked hard to earn a reputation for going above and beyond. Our technicians are all background checked, licensed and bonded and we're proud to exceed expectations with the best service for keeping your water clean, clear, and sanitized.
We've been audited, and found to be in total compliance! That means all procedures and guidelines have been followed. Trust AllSpa to be there when you need us most!
Want to Learn More About Our Award-Winning Swimming Pool Cleaning Repair and Maintenance Services? Contact Us Here:
• Swimming Pool Repair Services
• Swimming Pool Cleaning Services
• Contact Us About Service
• Schedule a Service or Repair
• Read AllSpa 5 Star Reviews
Connect with Us:
Check Us Out on Facebook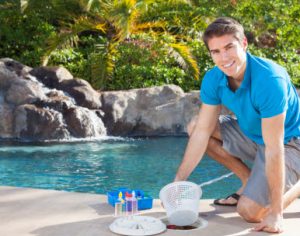 About Wilsonville – Source: https://en.wikipedia.org/wiki/Wilsonville,_Oregon
Wilsonville is a city primarily in Clackamas County, Oregon, United States. A portion of the northern section of the city is in Washington County. It was founded as Boones Landing because of the Boones Ferry which crossed the Willamette River at the location; the community became Wilsonville in 1880. The city was incorporated in 1969 with a population of approximately 1,000. The population was 13,991 at the 2000 census, and grew to 19,509 as of 2010.[5] Slightly more than 90% of residents at the 2000 census were white, with Hispanics comprising the largest minority group.
Located within the Portland metropolitan area, the city also includes the planned communities of Charbonneau on the south side of the river, and Villebois on the western edge. The city is bisected by Interstate 5 and includes I-5's Boone Bridge over the Willamette. Public transportation is provided by the city-owned South Metro Area Regional Transit, which connects to the Portland-based TriMet by train through TriMet's WES and by bus at the Tualatin Park & Ride. Students in public schools attend schools in the West Linn-Wilsonville and Canby school districts, including the only traditional high school, Wilsonville High School. Clackamas Community College and Oregon Tech have satellite campuses in the city.
Wilsonville has a council-manager form of government and operates its own library, public works, and parks department. Fire and police protection are contracted out to other regional government agencies. The city is home to several technology companies including Mentor Graphics, along with Stream Global Services, the largest employer in the city. Wilsonville contains many distribution and manufacturing buildings adjacent to Interstate 5 such as regional distribution facilities for Coca-Cola and Rite Aid. Retail centers include Argyle Square on the north and the Town Center Shopping Center to the south. Media in Wilsonville consists of the Portland area broadcast stations, regional newspapers, and the local Wilsonville Spokesman newspaper.
Coordinates: 45°18′24″N 122°45′59″W
Map of Wilsonville

Here's more information about Wilsonville
https://www.ci.wilsonville.or.us/
https://explorewilsonville.com/
https://www.wilsonvilleparksandrec.com/parksrec